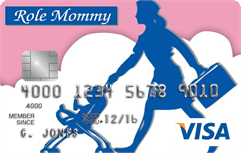 We're excited to announce a brand new way that you can support Role Mommy!
When you apply for the new Role Mommy platinum Visa Card, our issuing bank (UMB) will donate $50 to Role Mommy the very first time you use it and we will donate a portion of these funds to charities supporting women and children along with programs and events dedicated to empowering moms to pursue their passion while raising a family! Additionally, UMB will donate a percentage of all your future purchases on the card to Role Mommy as well! All of this is done at no cost to you, and no cost to Role Mommy!
The more of us who participate, the bigger the impact we can make.
All the benefits of a platinum Visa card will be yours, along with the satisfaction of showing your support of Role Mommy's mission every time you use your card.
If you click on the card above today, you'll be taken to the UMB website where you can sign up for your free Role Mommy credit card. So get ready to sign up for your Role Mommy card and get ready to purchase with a passion!
Frequently Asked Questions
Q. How does opening a credit card with UMB benefit Role Mommy?
A. Role Mommy receives $50 for each approved application that is activated and used within 90 days of approval. $25 of every donation will benefit charities supporting women and children including St. Mary's Children's Hospital, Love Our Children USA, the Gal to Gal Foundation (assisting patients and families battling stage IV cancer) Additionally, a percentage of every retail purchase made using the card will be donated to Role Mommy to support ongoing events and services throughout the year benefiting parents who are pursuing their passion while raising a family.
Q. Who is UMB?
UMB a multi-bank, multi-billion dollar holding company headquartered in Kansas City, Missouri, was recently ranked by Smart Money as "the highest-scoring traditional bank among our favorites." As a leading card issuer with nearly 40 years of credit card experience, UMB offers a wide range of consumer and commercial Visa and private label products. For more information, visit www.umb.com.
Q. Is there an annual fee?
A. No, there is no annual fee.
Q. What is the interest rate on the card?
A. 0% for the first six month introductory period on purchases and balance transfers. After the six month introductory period, the interest rate will be the federal prime rate (no lower than 5.25%) + 5.90%.
Q. Can I apply over the phone?
A. Unfortunately, not at this time.
Q. How can I get an application by mail?
A. Paper applications will be available at select Role Mommy events or by contacting rolemommycfo@gmail.com. We encourage you to apply securely online to help us reduce marketing and processing costs.
Q. When I apply for the card, will my transaction be secure?
A. Yes. Your application will be transmitted to UMB through an encrypted security page.
Q. Do I have to activate and use the card within a certain time period for the Role Mommy to receive the $50?
A. Yes. But you only need to use the card once within the first 90 days for us to receive the $50 donation. Of course, we encourage you to make it your primary card because Role Mommy receives a percentage of every retail purchase at no additional cost to you.
Copyright © CardPartner, Inc. All Rights Reserved. Visa cards issued by UMB. Note: all cards are indicative only.