The Parentville Fave Five
​
Random Things We Love!

Parentville.com is the new give-and-get parent recommendation site where you can quickly find (and recommend) information on products, services, activities and caregivers.
The past week on the East Coast has been a mix of sun, rain, heat, cool, sick, well. And that's about how we feel about our Fave Five - a hodge podge of the best we've found lately!

This is a wonderful cognitive tool by Workman publishing to help learn the alphabet, colors, shapes, sizes, and counting. There are two sets of easy-to-hold flashcards (more than 100!) with question cards and corresponding answer cards behind them. These really test your child's ability to figure out situations and puzzles. Perfect to keep kids busy in a restaurant and traveling. Cards for ages 2 to 13.
Fashion in the Tub by ALEX Toys
ALEX Toys showed us this fun "dunkin' diva" toy for the bath, and we love it! This has two foam dolls and more than 30 pieces -- warm / cold weather clothes, a dog and a shopping bag! Wet the foam pieces and they will stick to your bathtub wall. This is a terrific toy for helping with coordination when pasting the outfits on the dolls. And, it comes with its own hanging suction bag! Suggested for 3+.
These cotton tights come with coordinating leg warmers to complement various outfits! Buy two and you can swap colors. There are a few online stores that carry them, but more stand alone stores have variety. I found them at Teeter & Totter in Edgewater, NJ, but you can check other stores here.
eeBoo Alphabet & Numbers Simple Puzzle Pairs
This is a classic design featuring 36 sets of 2 puzzle pieces each for each alphabet letter and number one to 10. Great teacher for cognitive and fine motor skills. Baby can use this from 1 year onwards: first he recognizes colors and pictures, then later letters and putting together the puzzle pieces, and finally putting the pictures together with the right letter. This could also make a neat wall hanging if glued together.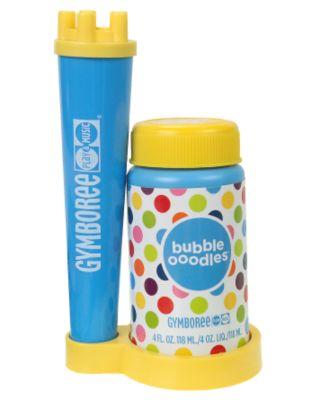 We know Summer's over, but there's still time left to blow bubbles! This is the best we've seen. Great cone shape makes it easy for kids to blow hundreds of tiny bubbles (there are five openings) with a long-lasting formula! Plus, you and your toddler can blow air into the cone without putting your mouth directly on it to spare germs.
Posted in: Blog, The Parentville Fave Five on 09/28/2009
Comments